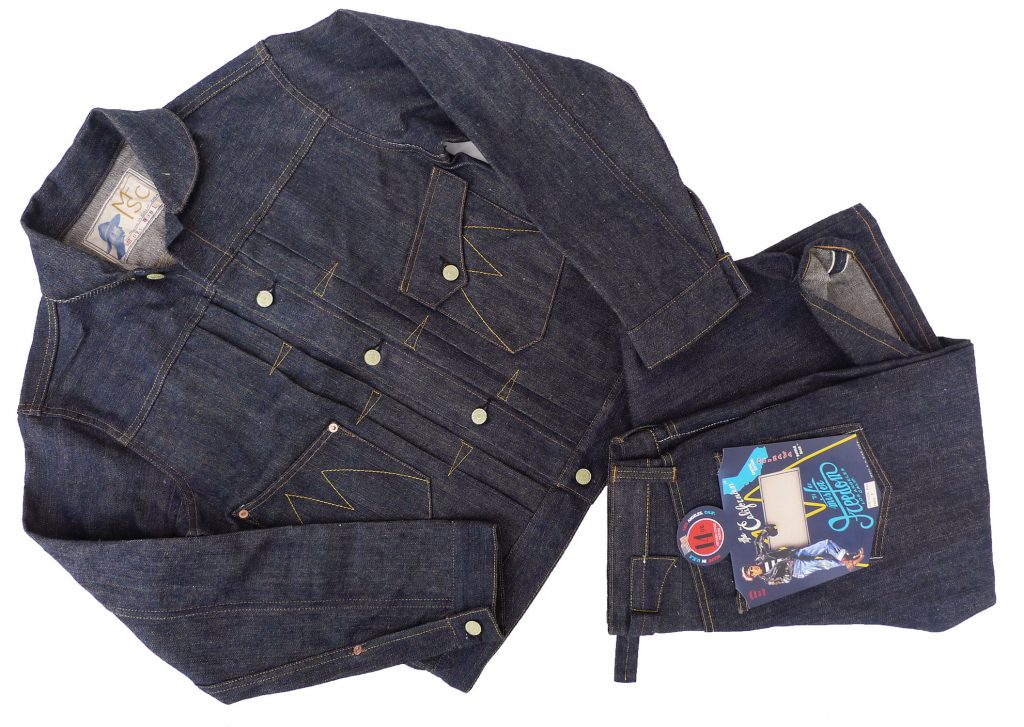 We are so hyped to already see our first drop form the one and only Mister Freedom for Fall. 
As always Christophe Loiron and company are up to some great shit. 
Check out his Blog post for the lastest on what to expect from 2 of the pieces we have hitting the floor this Saturday Aug 19th at 12 noon. 
We are giving our original Ranch Blouse and classic Californian 5-pocket Blue Jeans a new handsome skin for Fall 2017, adding the updated version to our catalog of made-in-USA goodies, regrouped under MF® The SPORTSMAN label.
This fabric option is an old mfsc favorite, the mighty "Okinawa 301", a 'hairy' 14 Oz. left-hand twill indigo denim, blend of 50% sugarcane fibers and 50% cotton, with a white/green line selvedge ID.
For the occasion, we also tricked-out our Californian LOT.64 by adding a rear cinch (aka buckle-back), thereby introducing yet another member to the Californian family, the LOT.64 BB "Okinawa" with its midnight blue flasher.
The "Okinawa" denim has enviable fading abilities and will progressively develop a desirable patina overtime, with normal wear/wash cycles.
However, it is less the denim type than the actual wearer that should be credited for amazing fade patterns, as demonstrated by the few jaw-dropping worn specimen of MF® Ranch Blouses sported by friends from Thailand, members of the Pronto Denim gang of workwear aficionados. See some examples below.
Not sure what this fine crew does to those jackets, but the results are incredible! Thank you for the commitment and support, Gentlemen. Don't hesitate to submit a photo (hi-res) of your worn Ranch Blouse to sales@misterfreedom.com (with your full name for proper credit), we'll happily add them to this gallery and our Mess of Blues line-up!
Check the full blog post HERE